It probably comes as no surprise that packing lunch can lead to big savings. In fact, the average adult spends $1,500 per year on buying lunch while at work. If your entire family buys lunch each day, switching to home-prepared meals can result in substantial savings–maybe even enough to take a family vacation instead! Plus, it's often healthier to pack your own lunch instead of buying lunch out–this way, you can control exactly what you're eating. In honor of National Nutrition Month, check out these simple tips that can help make packing healthy lunches easier:
Make it easy– Spend a few minutes Sunday evening preparing for the week. Package a week's worth of baby carrots and whole-grain crackers into individual bags; each night grab a bag of each, add your main food, and your lunch is ready to go in seconds. Many items can be bought prepackaged, and while a little more expensive, they are still cheaper than buying lunch.
Make it less hectic– Pack your lunch the evening before instead of the morning, which tends to be a hectic time for most people. Kids can help pack too, if you make it simple. Place prepackaged foods in numbered bins (i.e. 1 = snack options, 2 = drinks, etc.), and let the kids choose and pack one food item from each numbered bin.
Make it fun – Kids (and adults!) love fun foods. Use cookie or sandwich cutters to create fun-shaped sandwiches or fruits and veggies that even the pickiest eaters will enjoy.Or, have everyone help make fruit or meat/cheese/veggie skewers the whole family will love.
Use the following chart to help you start making lunches simple and nutritious. Simply pick one item from each column, pack, and go! Consider printing the chart and putting it on the fridge–it's an easy tool to help kids make their own food choices, while you can be confident their choices will be healthy!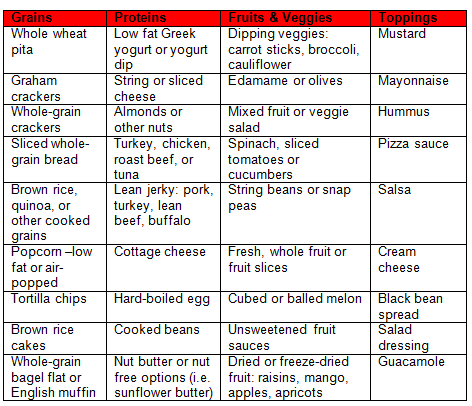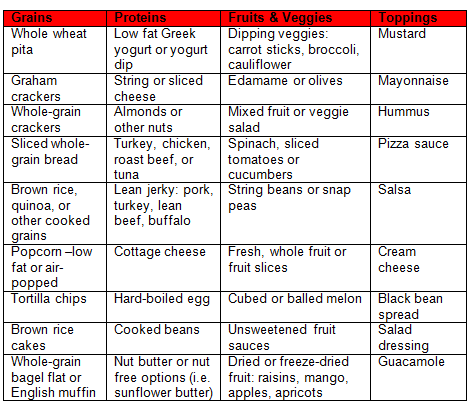 If you're a Health Advocate member with access to the Wellness Coaching program, reach out to your Wellness Coach for more healthy lunch ideas.